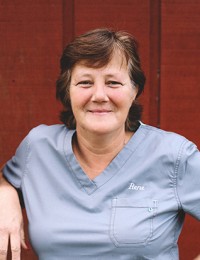 Office Manager
Rene' is a life-long resident of Anderson County, where she grew up on a family dairy farm. Being the daughter of a dairyman she, at an early age, developed a keen appreciation and love for livestock and animals in general as well as the hard work and long hours required to properly care for them. Rene' began her career at Outlaw Veterinary Clinic as a large and small animal technician in 1999. She primarily handles the administrative aspects of the practice but is often called on to help in the clinical areas as well.
Rene' is married with two sons, Greg Jr. and Johnny. She and her husband Greg enjoy traveling and lake life but most of all they enjoy being with family.
In May of 2019 Rene' opened BrewCrews Doodles and Kennel, LLC. It is a boarding facility with grooming and doggie daycare. Rene' also breeds and raises GoldenDoodle puppies.